Thinking of trying Procreate but not sure if it's worth the money? What is it good for and what devices does it works on? Or maybe what are the best features of this IPad app? These are some of the common questions I get from my subscribers. I'm here to help you learn the answers and give you an honest opinion.
Procreate is a great app with many Pros and interesting features. But as with everything it has its cons. Let's look at everything that is good about it and what it lacks. Being an illustrator and designer for over a decade now, I work with Procreate quite often. I hope that my knowledge in this review will help you decide if you want to try it for yourself.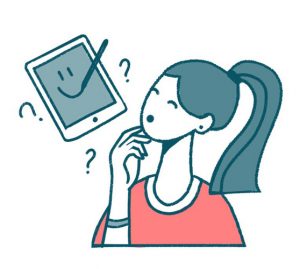 This review comes from an Adobe user with years of time record. (Ouch, it makes me feel too old ☺️ ) And I had the same questions as many of you reading this post. It's been almost a year since I've got my hands on Procreate app on Apple's tablet. So I believe I have a decent amount of experience to compare Procreate to other leading drawing programs by now. Let's start with a couple most important things you should know about it.
What devices work with Procreate?
This application for sketching and drawing is created for iPad Pro specifically. The tablet must be running iOS 11.1 or newer. You cannot install it on Android and use it on tablets running Google's OS. You also would not be able to use it on a regular IPad of older versions, only the Pro version supports it. So before buying check your tablets iOS version. There is also a Procreate Pocket version, which can be used on iPhones.
Is Procreate free on iPad?
No, it is not. If you would like to use it, you will need to buy it from Apple Store.  Unfortunately, there is no free trial version to sample the app and experiment with it either. It's a one-time deal though (USD 9.99), no subscription required. Once you pay for the app it's yours forever. Which is a good business model in my opinion.
Does Procreate require an Apple pencil?
Yes and no. While Procreate implements Touch technology of pressure-sensitive painting that allows you to use your finger, the best and most comparable user experience comes with a stylus. You would definitely want to get an Apple pencil, or use an iPhone-compatible stylus.
Is Procreate better than Adobe Illustrator / Photoshop?
 Depends what you are using it for. Photoshop is still better for complex illustrations, simple animations and everything that requires grid structure (i.e. identity or web design). On the other hand Procreate is fantastic for sketching, flat illustration and everything that you can create on the go. Adobe has long been an ultimate leader in the creative software sphere. With the appearance of Procreate for IPad Pro many artists have turned their attention at this app with expectations and questions. You can read a really detailed comparison in this post.
These were the essential things you'd need to now. Procreate became pretty popular among many artists over recent years and I've seen a lot of wonderful illustrations made with it. Because there is no trial or demo version of the app I had my doubts if it would suit my workflow or if it could even replace my usual work on computer. Now having created many illustrations with it I'm glad I gave it a try. So let's talk about its strengths and weaknesses.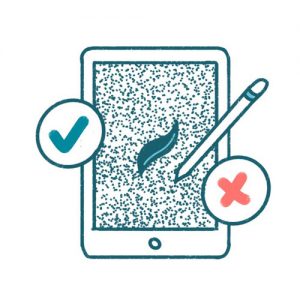 Procreate PROS
– Brushes
There are many and most of them are REALLY cool! What's even better is that you can download new ones made by other people (just like in Photoshop) and create your own directly on your device. By using different textures and playing with parameters, you can get unique brushes of your own and even share your presets with friends (or customers, or both). There is a whole bunch of settings that helps you make the adjustments. I'm still playing with 'em 🙂
– Really smooth workflow
It's when you feel like a queen of digital technology zooming in and out and rotating your canvas super-fast and precisely J I personally didn't feel any lag working with my pencil (and it was what I was worried about as a dedicated Wacom user).
–Omg time-lapse recording!
With Procreate you don't need to learn how to work in any specialized video recording program as it can instantly save your working process. It records your every brushstroke and I find it really helpful to rewatch my timelapses to analyze my workflow and see where I can improve.
– Formats
Procreate works with PSD, TIFF, PNG, PDF, and JPEG files, which means you can export your half-made work and continue working on your computer easily. It's also helpful for preparing your graphics for printing (there is no CMYK mode in the app, so it's pretty convenient to export your PSD file to computer for further adjustments).
– Having fun!
And finally – how cool is that to draw on your coach/on the train/in your parents' house with no need to scan the drawing afterwards or to use a stationary computer!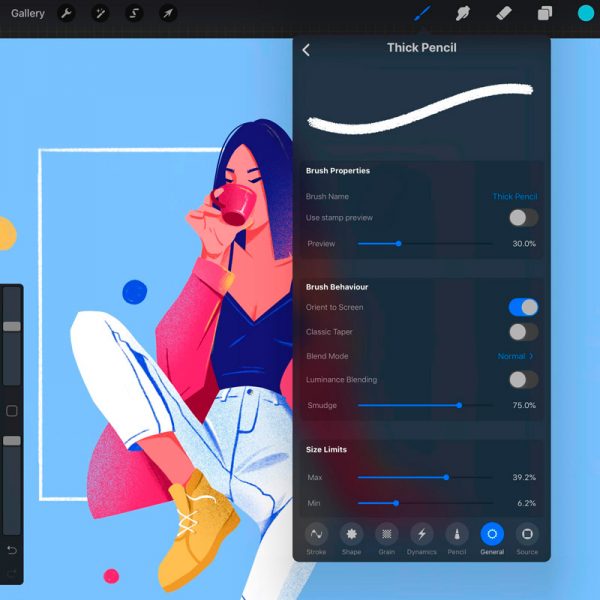 AND SOME PROCREATE CONS⠀
– Masks
Fortunately clipping masks have been added to Procreate with some recent update (yay!). Though simple layer masks are still rather basic – for example you can't create a mask from selection and have to actually paint the areas you want to conceal. You're not able to invert a mask either, so hoping for further updates.
– No vectors
I really love working with vector shapes and masks in Illustrator and Photoshop as it gives a lot of control over the drawing. It's way harder to achieve the same 'smoothness' of the line in Procreate. On the other hand it's a good way to practice your hand drawing skills to compensate for this.
⠀
– Adjustment Layers
Personally for me it's currently the most essential disadvantage. Yes, you can change colors, saturation or contrast for individual layers. But you can not adjust your color settings for the whole document as a whole. That is mainly the reason I need to make my final adjustments to illustrations on computer.
– Hidden tricks
It's funny that the coolest functions that can make your work in Procreate much faster and fun are the ones you can stumble upon only by chance or reading and watching tutorials. So some research is required to optimize usage of the app and customize it the way you like.
Conclusion:
Overall, I'd say Procreate is worth its $9.99 price and is pretty handy both for simple sketching and doodling and for some creative illustrative pieces. It's also pretty intuitive for an Adobe user like me. Though as with every new software, you need some time to adapt it for your needs, learn some shortcuts and get used to putting your Apple Pencil in the right place not to lose it in the pillows of your coach 🙂
If my review was helpful to you there is nothing better than sharing it with the world.
If there is anything else you'd like to know about it feel free to ask me in the comments below.