iPad or Drawing Tablets: What's the Difference and What to Choose?
Whether you are an aspiring artist just learning to draw digitally, or a traditional artist seeking to enhance your art with a digital touch. Eventually there comes a question of what tablet to choose. It can be a tricky one, as buying a graphic tablet is an important investment. It can help you a lot and even boost your creativity. However getting the wrong one can actually discourage you from working digitally.
Fortunately, today there are many good options to choose from. In the end, it comes down to selecting between iPad series and drawing tablets by other companies, mainly Wacom. So what to choose: iPad or a drawing tablet? Are drawing tablets better than iPad series? Can the Apple product actually replace them? Which one should you get and why?
Depending on your needs and tasks, either can be a great pick. In general, if you want mobility iPad is a comfortable choice. Pen tablet on the other hand is a great way to draw on your iMac or PC. Of course, there's more to it than that. Here you can check on more details to make the right choice.
This article covers the main Pros and Cons of iPads and drawing tablets based on my experience as a practicing professional illustrator. Having worked with all these devices for years, I'm happy to share my experience and help you decide what suits you best. To begin with here's a detailed list of the most essential features and differences for the devices: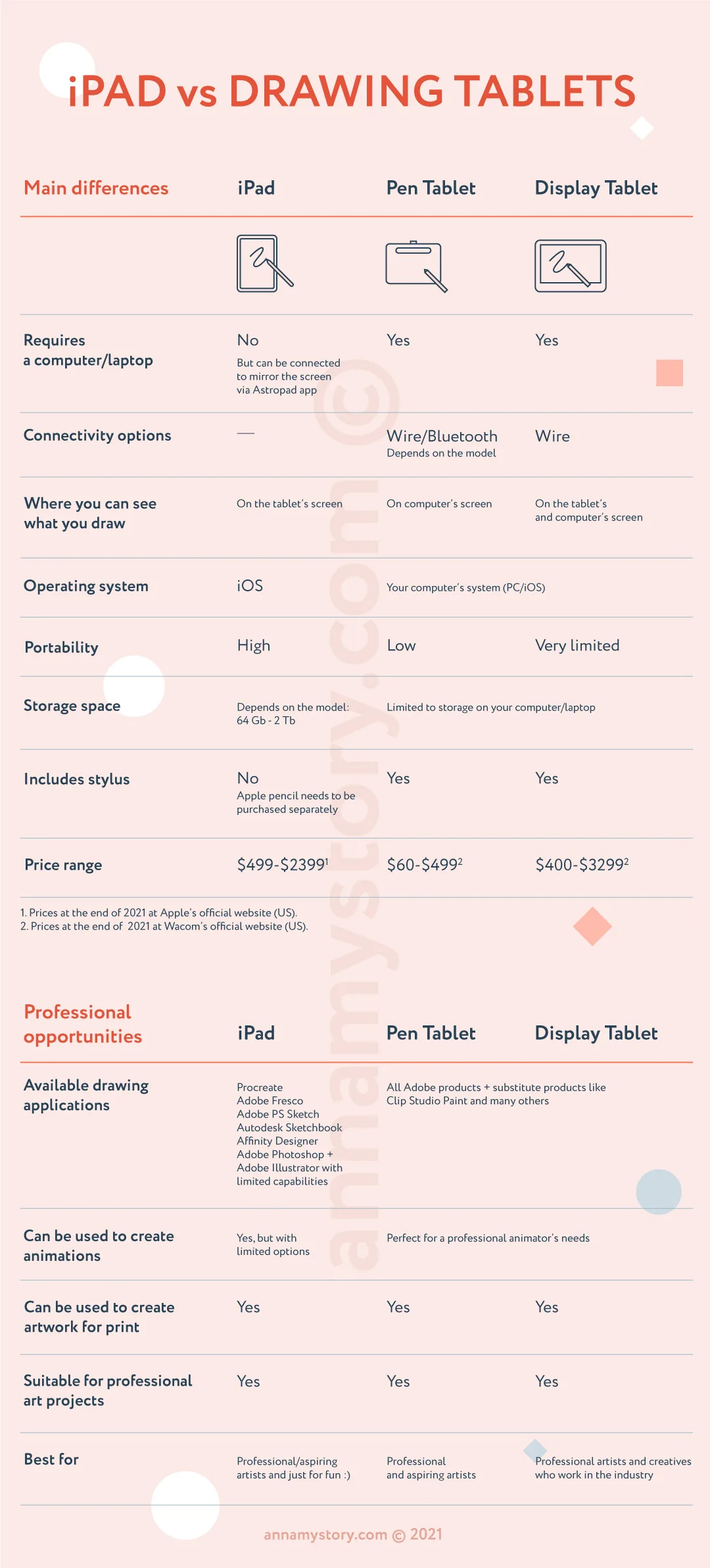 iPad vs dedicated tablets – what's the main difference?
The biggest difference between iPad and pen/display tablets is that Apple's tablet does not need a computer (or laptop) to be able to use it for drawing.
iPad is an autonomous device. Together with Apple pencil, it allows you to draw using different illustration apps, send e-mails, browse etc. It is a trusty self-sustained portable working station of a modern artist. All you need to do is to charge it in time 😊
As for the dedicated drawing tablets, they do need a computer/laptop to be connected to. They are not portable at all. However, they give you an opportunity to work with powerful desktop software and use the storage of your computer. With them, you can work with a familiar operating system of your convenience Windows or iOS.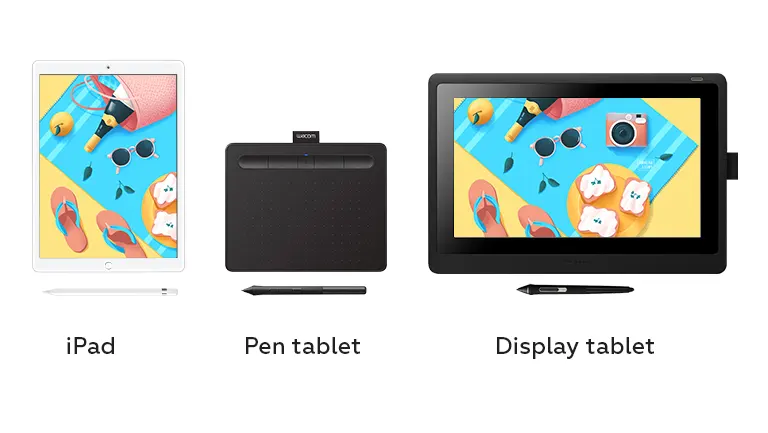 There are 2 main categories of drawing tablets: pen tablets and display tablets
Pen tablets replace your mouse with a pad + stylus for comfortable drawing. You can still keep mouse connected if you like though. You use the stylus while looking at your computer's monitor. They wary in size from A6 to A4 (as far as I know A3 is no longer in the market). Most popular tablets are produced by Wacom and are considered a standard industry hardware. You are likely to see them in design studios and agencies almost everywhere in the world. I personally have tried a few models over the years and pretty much all of them were convenient to work with.
Display tablets is another popular category of dedicated tablets. In this case you don't have to look at your computer's monitor. These devices have their own screen. So you can draw and look at that screen directly. This turns the drawing process to pretty much the same as with drawing on paper.
The screen sizes vary from model to model in a wide range of 13'' – 24''. These powerful stationary machines are great for professional artists who draw a lot and need professional software for their everyday work.
There is also a narrow category of tablets like Wacom Mobile Studio Pro which doesn't require a connection to desktop. But their price starts roughly at $2,600 and that's definitely not what I would recommend for an aspiring digital artist as a starting point.
Technological differences
So which one has a better technology, iPad or drawing tablets?
Sensitivity levels. This is one thing often pointed out when comparing the devices. You can find a lot of information on the web regarding sensitivity levels for apple pencil and Wacom styluses. The truth is – they both are pretty great and convenient to work with. Therefore, I would not worry about this point too much.
Operating system (OS). iPads work on iOS. For dedicated drawing tablets it depends on the system of your computer/laptop, to which you connect the tablet. So if you're used to work in Windows on your PC it might be a bit challenging to switch to iOS on iPad at first. But in my experience it's not that crucial.
Storage space. In case of iPads it is predetermined and varies from 64 Gb to 2 Tb in the newest models. It affects the quantity of layers you can have in certain drawing apps and how often you need to delete old files from your tablet. Storage space on drawing tablets equals the storage of your computer and is usually more than enough for comfortable work.
A need to charge your tablet. You will probably need to charge your iPad on the daily basis if you use drawing apps a lot. Dedicated tablets don't need to be charged and are always ready for work.
Convenience
What's more convenient: iPad or drawing tablets?
In terms of convenience it all depends on your working style. If you travel a lot or simply like to draw on your couch or in café over a cup of coffee, iPad would be the best choice for you. It doesn't weight much and you don't need to drag your computer or laptop with you to be able to draw away from your working place.
Drawing tablets on the other hand require your computer all the time. However, many people do prefer drawing at their dedicated desks, so it's not a big deal to them anyway.
Seeing what you draw on the tablet itself is another point of convenience. iPads and display tablets allow you to draw very naturally. You draw on the tablet's display and the drawing appears right there instantly. Pen tablets on the other hand require you to look at the monitor while your hand with stylus moves on the pad. For people with background in traditional art it might be more convenient to draw on the screen directly. While those who prefer digital experience may find it more natural to use pen tablet.
Software
Which one has a better selection of programs?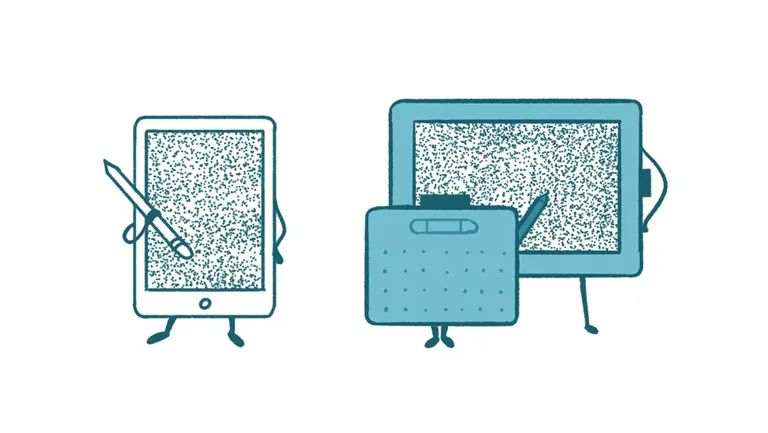 There are a lot of drawing apps for iPad nowadays and some of them are really powerful. To name a few: Adobe Fresco, Autodesk Sketchbook, Affinity Designer (great program for working with vectors), and of course Procreate.
Procreate is definitely my favorite app for iPad as it allows to create professional quality art in high resolution and has a lot of great features. Some are similar to desktop Photoshop and some are quite unique. It also works with .psd files which is super convenient. Here's my detailed Procreate review if you'd like to know more.
That being said using dedicated tablets gives you complete freedom in working with Adobe Creative Cloud as well as other programs not available on iPads. Adobe CC is considered a standard in the industry and gives you a lot of creative freedom.
This year Adobe released its upgraded versions of Photoshop and Illustrator for iPad. Even with the updates these are not the same programs as their desktop versions.
There are also Adobe After Effects and Adobe Premier Pro on desktop. Both used for professional video editing and animation. Apps for iPad can not match those.
Price range
What's more expensive? And is it worth going for a cheaper variant?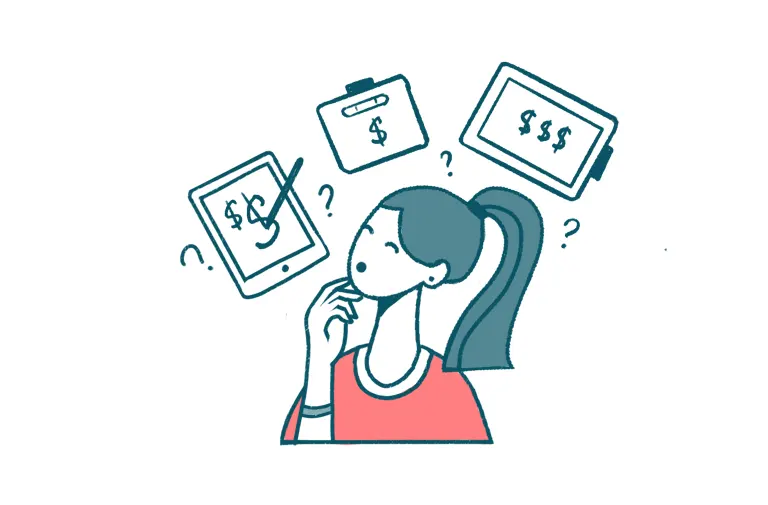 One of the main factors while choosing a tablet is its price. If you are just starting practicing digital art those numbers might scare you away.
Right now (end of 2021) prices for iPads range from $499 to $2399 (data taken from Apple official website). The cheapest one is iPad mini with 64 Gb storage space. The most expensive one is a top-notch iPad Pro. You should not forget about all the additional products that usually go with iPad. Apple pencil is a must have, obviously. And it can be a good idea to get yourself magnetic cover to protect the screen. You'll have to buy both separately.
The cheapest pen tablet goes for $60. For this price you can get the smallest One by Wacom. This makes it pretty affordable for a starter. Prices for display tablets vary greatly. You can spend up to $3299 for a professional tablet with HD screen. (data taken from Wacom official website)
General advice
So what is better for you personally?
If you are an aspiring artist or just want to try digital art, I would recommend to choose between iPad (if you value mobility and have some money to spare) and a pen tablet (if you already own a laptop and have access to programs like Adobe Photoshop or Adobe illustrator).
I would not recommend buying an expensive display tablet as your first device. Unless you've already tried it and enjoyed the experience and you're comfortable with the price tag. Otherwise go with iPad or pen tablet.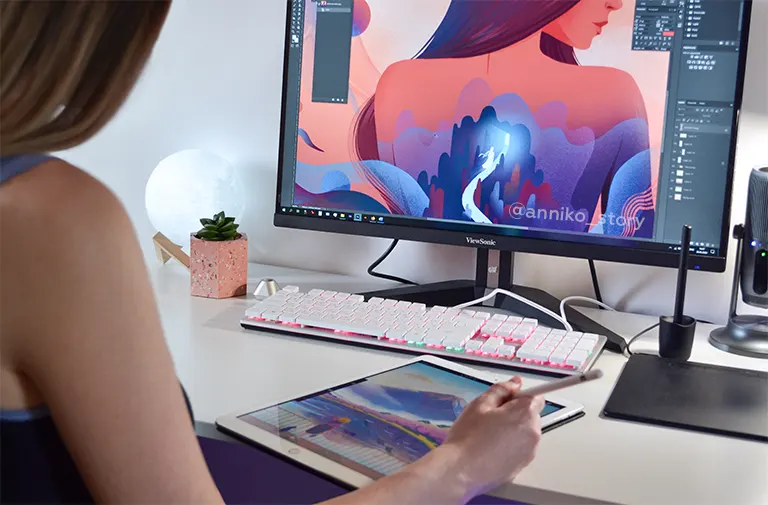 I personally use both iPad and Wacom pen tablet for my work. In my experience, these are quite complimentary devices. I can freely start my work on iPad and continue it in Photoshop and vice versa. Having an iPad allows me to enjoy more flexible schedule. While having a pen tablet by my computer is perfect for working in Adobe CC programs.