How to become an Illustrator – 2 Steps Guide
Want to become an illustrator? Would like to enjoy the life of creating amazing artwork and bath in the never-ending waves of fame and glory? If so, you might have already googled what needs to be done and how to become one. And my guess is that the answer is still not clear.
Well, as an Illustrator myself I'm here to tell you – all you need to do is to follow these 2 steps. Yes, it is simple as that. No need to spend days researching and going through countless articles and hours long video courses.
Here it is, let's make a fine illustrator of you 😉
Becoming an Illustrator – Step #1
– Decide for yourself if creating art and drawing is what you enjoy the most.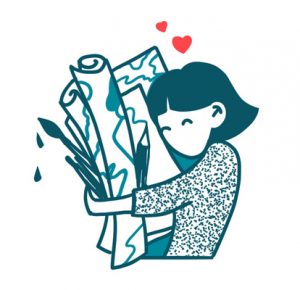 This is the most important thing. Because you are going to do it on a regular basis as long as you will be a professional illustrator. Hours, days, years – it's up to you. You need to realize that being an illustrator means drawing practically every day, sometimes more sometimes less. But like with most professions it will consume the major part of your time. So if you do decide to dedicate your life to illustrations – you must enjoy the process. No way around it.
Why doing something that doesn't bring you joy and satisfaction? And believe me the profession of the illustrator is one of the most emotionally rewarding. In some sense, you can't even say it is a profession, more like a life calling that you couldn't resist.
Ok. You gave it a deep thought, looked inside your inner world, maybe even meditated a bit and realized that creating art and drawing is indeed what you want to do more than anything else. That IT IS your passion. Great! Step one – completed. You are 50% an illustrator already 😉
What? You are confused? Thinking – but what about all these 10 – 20 steps guides and long video tutorials? Let me guess, they were trying to tell that you absolutely need:
Proper Education
Tons of Work Experience
Professional Portfolio
A big Clientele base
100500 more things
Well, guess what – you don't. Creating art, creating illustrations – is a way of self-expression. It is what we feel inside us. An urge we cannot contain. And why would you if it can be your beloved profession?
All the things mentioned right above will either come along in the process of your work or you won't even need them. Like getting a proper education for example. Who said you need to study to be an artist? Yes, education can give you helpful knowledge and useful tips, but it will never give you Talent. You can even learn some skills of drawing. But it won't give you your own personal unique style. It all will come with practice. In reality, you will discover/develop more of it in the process further on. Same with Experience, Portfolio, Client base. You will get it while working.
Becoming an Illustrator – Step #2
– Get ready for some haaaaard work.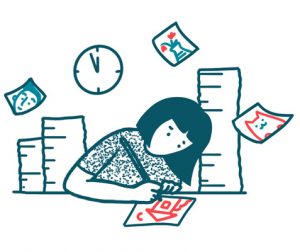 Yep, I never said it will be easy. Talent can carry you only so much. But the reality will demand more of you. Dealing with clients, modifying your illustration for the particular task, polishing your own unique style, learning how to compromise, how not to… So many things to deal with. It will put your dedication to a test and require tons of work. Basically, the more you put into it the better you will be in the end. Mastering more styles of illustration will get you a more diverse set of clients, a richer portfolio. Through practice you will get to understand how to organize and optimize your own creative process.
But it's definitely worth it. Because piece by piece you will build your own skills and experience to become the master of the universe a true illustrator.
Oh, and regarding styles, you do not really need to be a multi-specialist. If you find you own and perfect it – great. There is always a client for each and every style of art in this world: D
Conclusion
That's it. You wanted to know how to become an Illustrator. Now you know.
First – you make a decision and commitment.
Second – you stand by your choice and work hard on it.
And you don't let anyone discourage you from this path by over-complicating the whole thing.
But now you should ask another question – how to become a Successful professional illustrator. And the answer to this question I will provide in the future post 🙂
Save in Pinterest for later 😉